Everything You Need to Know About Weddings
Same Sex Marriage Celebrant Sydney.
Yay finally  EVERYONE who loves each other can choose to commit to marriage.
It's a very exciting time for Marriage Equality in Sydney. The Wedding Industry is gearing up to warmly welcome everyone who is ready to say " I do " too! Phone calls are coming in for enquires for Same Sex Marriage Celebrant Sydney. Weddings are being planned for 2018 and I'm so happy to finally be able to conduct same sex weddings. A Notice of Intent to Marry must be signed 1 month before a wedding. Once legislation is passed and new forms are generated couple will be able to give their 1 months notice. This form is called a NOIM. We can start booking and planning now!
As an award-winning, experienced celebrant I'll be able to guide you through the legal paperwork and take a look at location and ceremony options. Modern Aussie Wedding are really about celebrating a couples love and life together. If your planning to go right over the glittery rainbow top, great I'll come with you. A secret wedding or elopement might be more your style. I understand and honour privacy. It's an important life event and moving moment for everyone so no matter how big or small your wedding is I'll be their for you.. The most rewarding part of my job is to guide you through the emotions of your ceremony!
March and October are peak wedding months with September and November also popular.  Same Sex Marriage Celebrant Sydney will book up to 18 months ahead. 3 main vendors you need to secure on one date are Celebrant, Photographer and Location/Reception. I know of lots of Stunning Sydney Locations and am happy to help with suggestions and practical hints gleaned from my years of experience.
I grew up in Paddington in the 1970's. My professional life before becoming a celebrant was that of a Dancer and Costume Designer. I danced with, loved and lost friends in the 1980's. I raised my daughter in Newtown in the 1990's. Now in 2018, I can conduct weddings for ALL people who love each other and choose to commit to marriage. In my eyes people are people and love is a powerful force!
Mike and Daniel were legally married in Germany and wanted to share the celebration with Aussie family and friends. Their Same Sex Wedding was held on Shelly Beach, Sydney which was packed on a summers day. When Mike and Daniel kissed the beachgoers gave them a standing ovation. If that's is anything to go by Sydney is going to really turn on a rainbow of celebration for everyone!
So if your planning a wedding your enquiry will be warmly welcome!
Budget  Wedding Locations in Sydney. Bradfield Park and Blues Point are ideal!
Spectacular views of the Opera House & the Sydney Harbour Bridge are a stunning backdrop for photos too. North Sydney Council does not require bookings for these locations for Weddings under 60 guests. Not many councils in Sydney allow setting up of table and chairs without a booking. This for Public Liability reasons. BUT North Sydney Council does.
There is plenty of Parking and Public Transport options including a fun Ferry service from Circular Quay.
Bradfield Park and Blues Point are perfect budget  Wedding Locations for couples flying in as tourists for an elopement wedding. For small Budget weddings and Legal Marriages in Australia if the couple is planning a religious Wedding Overseas. These locations are a great way to make your wedding day spectacular without the costs involved with booking with a council. The downside to not being able to book is that you have to be flexible about where in the park you set up. If a wedding is already taking place there are plenty of other areas to set up in both locations.
I can provide for hire a signing table and 2 signing chairs. I made the table cloth myself.  I have seen many table cloths fly away in the wind so have made sure mine looks great no matter what weather is doing. For larger Budget weddings you can hire a wedding decorator package with sign table, red carpet, archway and chairs for guests. Check my Links and Locations page for my preferred Wedding Decorator suppliers.
Bradfield Park and Blues Point are wonderful budget wedding locations in Sydney to celebrate your wedding in style with the beautiful city of Sydney as an iconic backdrop. Check here  North Sydney Council for Booking Rules.
"Fiona was a darling who helped make our civil wedding in Sydney smooth and lovely. We talked via email, flew in from overseas the day before our wedding day, and got married the next day. It was as easy as 1,2,3.  Although we only met with her twice (the day before, and the actual wedding day), she is now part of our wedding memories as a married couple. And we have great memories of that day" Barbie Muhlach
DIY weddings where every favour possible is pulled in around the couple create a great community vibe.
How to be a great Bridesmaid!
Bridesmaid Etiquette.
To help understand how you can best support the bride as a Bridesmaid I have put together a list of Bridesmaid's etiquette.
Before the wedding help the bride remain calm and focused, everyone has a lot to do and you will all be preparing to look your best however don't lose sight on the fact that it is her day. Have a bridesmaid who is keeping track of time and limiting any outside factors that might make you late, specially hair and make up artists who want to do the best job but can run overtime.
After walking down the aisle make sure the bridal gown is looking it's best, no need to rush this, it's all part of the ceremony and the photos of you helping her are part of the day.
The Dress
Immediately after the ceremony it's time to literally "Watch her back", the bride will not be thinking of this ( she just got married !)but she CANNOT walk backwards in a full dress with a train, if the dress is a little to long her shoes can get stuck in the dress, or she may frequently stepp on her dress so keep an eye on this now and for the rest of the night. She may need reminding not to walk backwards, she can trip and fall over!
Makeup.
After the ceremony you will go for the official photo shoot, delegate a bridesmaid to have make up ready somewhere close by( go get it and keep it with you).
Common make up issues are for both bride and groom is people may kiss them and they both end up with kiss marks on their face, have powder ready to touch up and wet ones( best thing ever for foundation on suits) or tissues for the groom. White chalk is the best thing for covering lipstick stains on the wedding dress if wet ones does move the stain.
The Groom
Grooms often sweat a lot during the ceremony, keep extra tissues handy and alert him to wipe sweat from his face during the photo session.
The grooms suits often ends up with foundation smudged on his shoulders from kissing and hugging the bride and being congratulated, all the points previously mentioned can end up as issues during the official photo shoot.
The Reception.
Often brides don't eat or drink much( sometimes anything) before the reception, by the end of the photo shoot they can feel quite dizzy and weak. Have some water close by and encourage both bride and groom to keep hydrated. Same when your sitting at the table, of course everyone wants to celebrate but drinking on an empty stomach after such a marathon of a day can really cause the couple to feel unwell to early in the evening, gently remind them to have a glass of water and eat some food!
Keep an eye on the dress, strapless dresses can drop down and cause embarrassing wardrobe malfunctions, alert the bride ASAP if you can see anything she would be embarrassed about. iphones will be on her all night and we don't want anything on social media that she would not want to be seen.
The Couples First Dance.
Have a makeup touch up before the cutting of the cake and the dance.
Keep an eye on the dress all night, you can have some safety pins and Hollywood tape on hand so she can move around and be comfortable specially just before the couples first dance.
If needed you can safety pin the petticoats up a bit if she keeps tripping over it. Avoid pinning the outside of the dress as that may tear but underneath should be O.K.
By doing all these things you will be seen as great friends & bridesmaids who are helping the bride look and feel at her best all day and evening.
Visit Australia for Asian Chinese Weddings Sydney
Visit Australia for Asian Chinese Weddings Sydney.
First of all Sydney Harbour has spectacular Wedding Locations for traditional white weddings. Many Chinese & Asian professionals who have immigrated to Sydney choose mid week weddings. As Families can fly in on a Monday when Hotels are good value. Wednesday Weddings are proving popular.  You can get great deals on reception centres and Harbour Cruise Vessels. Then guests and family fly back home by Friday ! I love Asian Chinese Weddings Sydney.
Then there are the Starship Sydney and Pontoon  2 amazing glass vessels. So Imagine floating on Sydney Harbour for the wedding and reception where you will be protected from the weather inside a glass boat. Then you will see the joyous faces of your family from China or Asia as they board a vessel at The Opera House! That is a great gift to give everyone who attends a Sydney Harbour Wedding. These photos are of 2 different weddings on Pontoon Wedding and Reception Vessel. Tea ceremony can be done after the wedding ceremony.
Other locations to consider are: The Royal Botanic Garden Sydney offers stunning views of the The Opera House and Harbour Bridge in a formal Botanic Garden setting. Another premium wedding location is Hickson Rd Reserve at Circular Quay. Opposite the Opera House and underneath the Harbour Bridge.Then there is Bradfield Park and Blues Point allow Weddings Under 60 guest without a booking fee. It's first in gets the position and there is always plenty of space to set up a small or large wedding. Bradfield park is perfect for Budget weddings and Elopements. I can offer location suggestions with you budget in mind. I love Asian Chinese Weddings Sydney.
I'd like to take a moment on to thank the Asian Community. Both in Australia and Asia for their support over the years. Having conducted over 400 weddings I get to meet people from all over the globe. One of the things I love about Australia is how multi cultural Australia is and what a stunning city Sydney is to have a wedding in!
I've been touched by how I have been embraced by the Vietnamese and Chinese communities here in Australia. As well as the Malaysian, Indonesian, Cambodian and Japanese, Korean and Pilipino families I have met along the way. The kindness and cooperation I have received from guests at weddings gives me very warm feelings and memories. I try hard to pronounce all nationalities names and I think getting pretty good at that. If Grandma nods her head and smiles I know I've got the couples names correct! Phew! Please call or email for help with your wedding
Marriage Registration Paperwork
One months notice must be given to have a legal wedding in Australia and the paperwork. A Notice Of Intent to Marry = NOIM can be signed in your home country before flying in for the wedding. I can give you clear instructions via email on how to do that.
 I'm very excited to announce I am honoured to have received the " Best Celebrant NSW 2016 "
Award from the Australian Bridal Industry Academy.
I would like to thank all my wonderful couples for your input into voting for this award as it is your rankings and no one else that got me there. I strive for perfection to make each wedding the very best wedding possible as I really understand that a couple only has one chance to get it right on the day. There is no " O.K so lets try that again"! Every time I conduct a ceremony it has to be the best one ever and I hope the votes of my couples reflect that it was for them. I am immensely grateful for the loyalty and support my couples of 2015/16 have shown.
This recognition means so much to me and I will be forever grateful to have received this award.
On Tuesday the 6th of December 2016, the Australian Bridal Industry Academy hosted the 20th New South Wales Annual Bridal Industry Awards at the exquisite Dockside Cockle Bay as a means of determining the best wedding crews in New South Wales. A total of 37 categories were acknowledged for the contribution, which they make to the wedding industry.
A grand total of 6,416 New South Wales couples selected 423 nominees, 290 finalists and 37 winners.
The Chairman of ABIA, Mr John O' Meara congratulated Sydney Civil Celebrant Fiona King as a winner of the Australian Bridal Industry Academy Award. Mr O' Meara went onto say that it was businesses like Fiona King's which enhanced and enriched the industry, through their tireless pursuit of excellence in Designing the Dream for each and every one of their unique wedding couples.
On behalf of all the New South Wales couples who tied the knot over 2015/2016, we say thank you Fiona King CMC for the passion, pride and professionalism which you bring to the wedding industry and the assistance, advice and support which you bestow upon the future brides and grooms of New South Wales.
Some lovely reactions to the win from my previous couples:
Congratulations "Best Celebrant NSW 2016"  WOW! We believe you deserve every point of it! You were an outstanding celebrant for us, and we will always remember you, and our lovely ceremony, with intense pleasure. Thanks for letting us know, and we hope your future continues to be rich and rewarding.
Robyn & Kim
CONGRATULATIONS Fiona!!!!!
Todd & I are SOOOO delighted that you won Australian Bridal Industry Academy Awards, "Best Celebrant NSW 2016" We are not at all surprised though! You totally deserved to win!
I declare an officially celebratory Celebrant Chicken dance is called for!!!
I can hardly believe it's been almost a year since we tied the knot (literally) with you!
We will treasure forever the wonderful ceremony you provided for us and our family & friends Centennial Park. The wording you selected with us could not have been more perfect! It was as if you had known us all our lives. We will always feel SOOOO totally blessed to have met you. It was truly the best wedding gift ever!!!
Your win highlights how much each and every one of the couples who you unite with such personalised ceremonies treasures the gift you have and give to each and every couple that you meet! While sadly as an adult I may have been forced to query the existence of Santa Claus, no one will ever make me doubt that there really is a Cupid because I not only met her but was married by her!!! May you continue to go forth and and share your gift of uniting love through the galaxy…..
All our love, admiration and gratitude forever & always will be yours,
Susie & Todd Philpott
Dear number one celebrant in nsw (yes that is you)
We were more than happy to to extend our thanks by voting for you in The Best Celebrant NSW 2016 Awards.  You made our day so very special we could not imagine another person who could have done it better. You will all ways be in our hearts and memories for now and the end of time. Hope 2017 is as powerful and magical as 2016.
Lots of happy vibes Bradley and Lauren x
Looking back on 100's of Weddings
Hello out there, I thought I'd start my very first blog on my almost new website taking the time to reflect on the last 6 years as a celebrant and the 400 weddings I have now conducted.
Well been a fabulous ride and sometimes a wild one with the weather and all! The only thing you can't predict or change and us Aussies love an outdoor wedding!
I've learnt so much along the way about people, relationships and about myself.
I've pondered on the what weddings mean, what the difference is between a wedding – the day to a marriage – the life. How I can help make this most intense of days as stress free and enjoyable as possible.
Every couple hopes for a perfect wedding day, when everything lines up like a cosmic sequence of " it was all meant to be" and I want that for you too. I have always keenly aware that you only get one shot at a wedding. I only get one chance to get it right for you. Now after years of getting it right ( mostly) I can confess to being quietly petrified of getting it wrong in the first 2 years or so. I'm through that now and every year I fall in love with this work a little more deeply.
A wedding is a moment, an eternal moment in time as it stays with the couple forever.
And it's a BIG EXPENSIVE MOMENT that the couple doesn't really know will work until they are right there at the moment! All the planning is done and the couple has to surrender to the moment, hope the lists are all ticked and everyone does their job!
I loved being a celebrant right from my very first wedding which was at the top of the Quay Restaurant smack bang in the most prestigious rooms with a view in Circular Quay. Thanks, Noppawan and David to getting me started at the top of town on Sydney harbour! I got it right Phew! Each year has grown both outwardly with more weddings booked and inwardly as I gain a deeper understanding of my clients and how to best serve them.
It was onwards and upwards from then on. Learning, refining, sharing and with social media keeping the connections and watching my couples turn into families. It's a such an honour and blessing to return to the family for baby naming ceremonies, to be asked to conduct a sister, brother or friends wedding and sadly even a funeral or 2. Birth Deaths and Marriages, the stuff life is made of.
The ABIA Awards
In 2012 I had the honour of being nominated for the Australian Bridal Industry Academy's "Best Celebrant Award NSW". Wow that was exciting! Only 2 years into the industry and I became a finalist. There are 1000's of celebrants in NSW. It's beautiful work and a very competitive industry.
I'm really grateful for the nomination and to the ABIA. Being involved in the award has really pushed me to strive for personal excellence. Thank you to all the couples who first of all hired me. Trusted me and then after all the excitement of the Big Day nominated and voted for me. It's votes of previous couples who determine the winners of the Australian Bridal Industry Awards.
I'll let you know how I go. One day I might just be known as the very Best Celebrant in NSW!
Looking For An Affordable Marriage Celebrant in Sydney?
Fiona Here, I'm A Celebrant With 10 Years Experience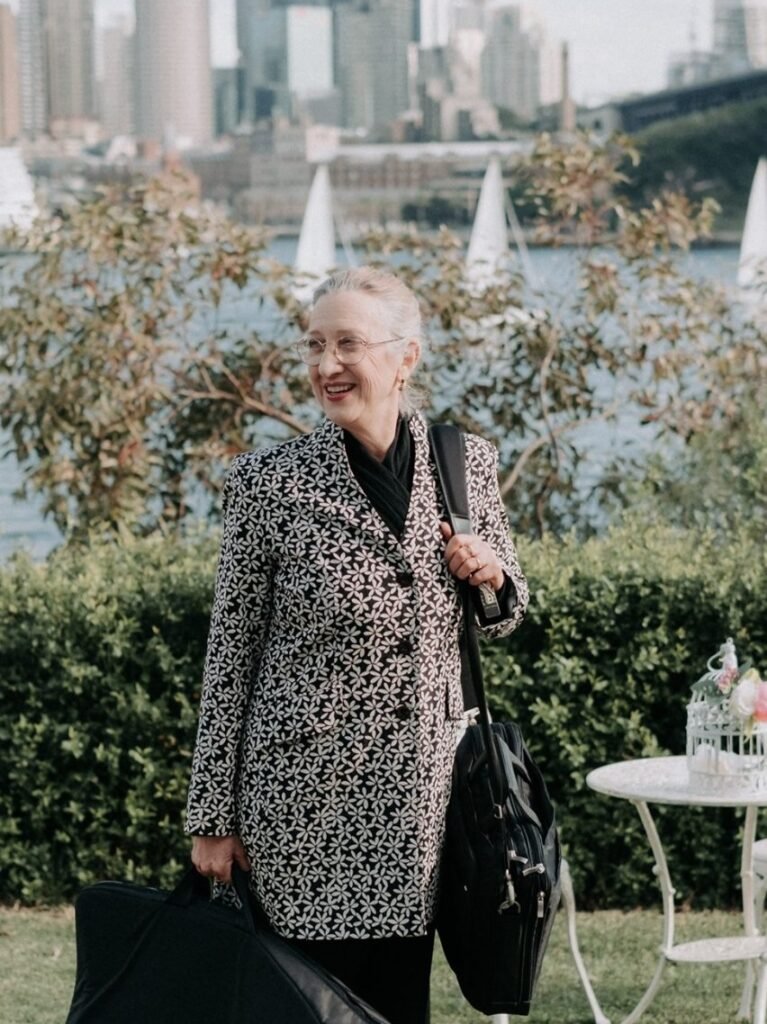 I would love to talk with you regarding your wedding large or small. Your welcome to contact me for a chat, email or set up a Zoom or Skype meeting.