Sydney Marriage Celebrant testimonials
John & Kay – Balmoral Beach Rotunda We would like to thank you for being our celebrant at our wedding at Balmoral Beach. With your advice and the resources you provided to us it was so much easier and lovely to be able to create our own wedding ceremony with words that captured how we feel about each other. The rehearsal on the previous Monday really helped us understand what to expect on the day so there were no awkward moments where we didn't know what to do or where to stand. Many of our guests commented to us how they enjoyed your harp playing and the pagan feel of the ceremony. Thank you for making our wedding day so special and unique!
Susan & Mick – Curzon Hall Mick and I wanted to thank you for the wonderful work you did in the lead up to our wedding and on the day. Your warm and welcoming nature really made us feel at ease right from the beginning and all the examples you gave us really helped us with our most daunting of wedding planning tasks – planning our ceremony! We didn't think it would be quite as challenging as it was, so it was lovely to have your help and guidance along the way. We ended up with such a beautiful and personal ceremony that we just loved and will remember forever – it was perfect. We received many compliments from our friends and family about how nice and unique our ceremony was, which is something that I think everyone who has a traditional white wedding strives for. Our Grandma even commented how lovely you looked and how nice it was that you had made such an effort to look the part. So thank you again, for everything you did for us. We feel very grateful to have had you as our wedding celebrant and will always remember how special you helped make our day. We will definitely be recommending you to all of our friends!
Ingrid and Steve – Dee Why Beach Ingrid & I happily recommend Fiona to anyone looking for a celebrant, even more so for anyone that wants something different to the norm! We wanted a simple no fuss wedding that we could relax and enjoy, but with enough ceremony to make the event meaningful and encourage a good feeling, than with following a detailed, scripted schedule. We chose Fiona simply because we got a good feeling after reading her website and we're very glad we trusted our instinct! Fiona was excellent from start to finish and she gave us far more than we expected. Thanks Fiona & congrats on your placing in the ABIA awards!
Lauren & Brendan – Springfield House Dural Fiona was our celebrant on 1 Dec 2012. We were so happy with the service she provided from day 1. Flexible, friendly, helpful, creative… the list goes on. Wouldn't change a thing and would highly recommend her to anyone whether they are having a traditional ceremony or something a little different. We would be happy to use Fiona again for naming days, etc.
Miriam & Dustin – Balmoral Beach Rotunda Fiona, you are so easy to work with and have a great positive energy. I also really appreciated that you didn't charge us an arm and a leg, like some of the other quotes I got. You're fantastic and talented and I can't wait to see you again for our little girl's naming ceremony! Thank you (we have celebrated the baby naming since the testamonial was written)
Kai Siang & Lydia – Sydney Botanical Gardens: d like to thank you for being an integral pat of our wedding day! We couldn' have asked for a more skilled and professional celebrant and harpist too! The day for us was a dream come true and we're so happy!
Matt & Julie – Long Reef Golf Club: Fiona is very helpful, imaginative and organised. She helped us to create a very personal and meaningful ceremony that brought together our beliefs and those of our friends and families. It was great to create the ceremony with someone who understood our Pagan spirituality, but was also flexible and imaginative. She suggested beautiful ideas for the ceremony like a singing bowl blessing, and a handfasting, and also gave us some lovely readings to choose from. Her attention to detail in presentation went above and beyond the call of duty. She was poised and eloquent in the ceremony and I hear her harp playing went down very well with the guests as they waited for the bridal party to arrive! We couldn't have been happier!
Jade & Peter Broughton Mill Farm, Berry: Thanks again so much for the lovely job you did for us for our wedding. The ceremony was beautiful and many guests commented on how lovely it was. Pete & I felt a rapport with you and trusted you to guide us through the process of the ceremony every step of the way, from choosing the vows & readings, to the paperwork,to what we needed to do on the day. We would definitely recommend you to our friends. Best Wishes xxx.
Roche & Ben – Curzon Hall: Thank you soo much once again for our beautiful ceremony! You truly made our wedding a wonderful experience…everyone who attended our wedding loved how you carried out our ceremony and thought that the blessing of the rings and the hand fasting was beautiful and was really touched…Ben and I would love you to do our future children's naming ceremony when we have them..xx
Alys & Josh – The Chinese Gardens: We just got back from our honeymoon and wanted to thank you so much for all of your help with our wedding and for doing such an amazing job.We feel so lucky to have found you and really appreciate your beautiful work. So many of the guests commented that it was the most beautiful ceremony they have ever been to. Thank you so much for your time, energy, warmth, professionalism and spirit. We really loved all of the elements that you brought to the ceremony, especially the harp and sing bowl. Thank you again and we will always feel grateful to you for helping to make our day so special and magical.
Bronwyn and Stephen – Stamford Grande Hotel: Thank you for being our wedding celebrant and for creating such a wonderfully unique and magical ceremony. It was all we could have ever asked for and more. It was fate that weaved its magic and we found you. From the first moment Stephen and I met you we felt like we had known you for all time. Your advice, understanding, thoughtfulness, professionalism and your shining warm personality played such a wonderful part in the preparation up to our wedding day and most of all, on our special day. Everyone has commented on the ceremony, loving every aspect of it – The Sword, Harp, and Handfasting all playing their intriguing parts, bringing everything together. Everyone said it was the best wedding they had attended, and loved how you incorporated family and friends into the ceremony, making them part of the day. Thank you from the bottom of our hearts once again for creating a day we will remember forever.
Renae & Steve – Sublime Point lookout Bulli: Steve & I want to thank you for doing such a wonderful job everyone has told me it was the best ceremony they have ever attended with the unique touches and involving our children even tho we didn't have a trail it rained and we had to get married under a BBQ area you managed to make the ceremony run effortlessly and we are very grateful to you.
Jodie & John – Flying Fish Restaurant Pyrmont: Thank you for making our wedding special. The ceremony was elegant and simple and you excelled our expectations. Thank you so much!!!
Helen & Steve – Lucinda Park Palm Beach: It was important to us to have a small intimate wedding with our children and a couple of close friends. At the same time we wanted something a little bit different and very special, so thank you so much for making our day very special. Everything was absolutely wonderful and beautiful and the inclusion of the harp made things magical. We have to commend you for your organisational ability and eye for detail right down to you contacting me to find out the colour of my dress so that you would not clash. Very impressive!
Ray & Carmen – Jeffery St Wharf Kirribilli: At our first meeting with Fiona we both felt a special connection with her.She has a great personality and demeanour. We felt that she loves what she does and being a celebrant is not just a job to her.Our wedding progressed very smoothly with Fiona in control of the ceremony. From the time she arrived until her departure Fiona displayed great professionalism and was happy to work with our videographer and photographer so they could get the best results. We highly recommend Fiona to anyone wishing to have a nice and authentic ceremony.
Jennifer & Andrew – Home Wedding Woollahra: We had a very intimate service with only a few witnesses. Fiona was extremely sensitive and respectful, making sure our needs were met. Our day was very special and Fiona invested alot of herself to ensure she created the right mood for us.We would highly recommend Fiona King as a wedding celebrant.
Michale & Kirsty – Kadaurah House Mossvale: Thank you for doing such an outstanding job at our wedding! It was awesome having someone so friendly and helpful around, you took away any stress that may have bubbled up. You truely made our day perfect & we can not thank you enough. Fiona & Mikey – Chinese GardenThanks for being a brilliant celebrant, so many people have remarked on what a lovely, personal ceremony it was!
Angela & John – Home Wedding : Fiona was awesome, she really made us feel like the most important people in the world, she was more than willing to do pretty much anything we wanted to do and when it was all to much she made us laugh and relax -plus she comes with a harp and it is so peaceful to sit and listen to her play.
Laura & Andrew – The Gardens on Forest: Thank you for giving us a beautiful ceremony and being such a great supporter of our marriage.
Elizabeth & Stephan – Circular Quay: Fiona couldn't have made a better wedding. Everything she did was exactly how we wanted. She really made a special day perfect. Thanks, Fi.Fiona's top qualities: Personable, Expert, Creative
Lani Belle – Sage Phoenix & Violet' Pixie-Blossom's Baby Blessing: Thank you so much Fiona for conducting such a beautiful, original, meaningful ceremony for our children's baby blessing! The service was amazing. I was so grateful that you used alot of our ideas as well as your own – it made it just perfect. The use of your harp, drum and singing bowl helped to create the magical sacred space that we wanted. Everyone present loved it and spoke very fondly of you afterwards. I definitely wouldn't hesitate asking you to officiate any other important ritual ceremonies I organise in the future. Thanks again for helping to make our day so special.
Catharine & Eric – Caddarah Park – Waverton: Thank you for all your enthusiasm, professionalism, talent and care. You made our ceremony very special.Belinda & Glen – Oxford Falls Peace ParkFiona we were really glad we chose you as our celebrant your special touches really made it special for us, and it felt like it was really a reflection of us, rather than an arcane, outdated ritual!
Bettina & Peter – Eden Gardens: Thank you so much! You were a calming support as well as a fabulous celebrant and I'll be in touch when we are ready to do a naming ceremony for our little jellybean! ( I have since conducted a lovely Butterfly release baby naming for Bettina & Peter). You certainly helped keep us calm, which many commented that we seemed so relaxed compared to most brides and grooms.Sandi & Drake – Chinese GardensFiona was awesome!! from the moment we came to her and even after the wedding she has been a great friend who helped us through all the complications we had putting the wedding together. At the Ceremony her passion for what she does shined through making for an unforgetable day.
Ksenia & Ryan – Handfasting Harbour Cruise Wedding: Fate helped us find Fiona King and her warm personality shone through a quick phone call. We met at least 4 times before the wedding, each time was like catching up for dinner with an old friend, with the much needed celebrant paper work all taken care of and organised very professionally and promptly. Fiona guided us through the many styles of ceremonies, allowed us to choose our own flavour, then make changes at will (via phone or email). On our special day, Fiona went above and beyond the duties of a fantastic celebrant and problem solved photography issues, family 'fun' and elegantly directed the wedding's flow of events. All thanks to Fiona, the ceremony was exactly what we asked for, rehearsed for and was even more exquisite and romantic than imagined. Many friends and family commented on how impressed they were with Fiona's performance as a celebrant and friendly personality as a welcome guest during the ceremony & reception.
Its particularly interesting to note that Fiona was a stranger to us before the wedding, but is now part of our favourite and eternal memories. Fiona worked tirelessly to meet our requests, politely suggesting and reminding us about wedding legalities & traditions. It is particularly important that Fiona took a personal interest in pronouncing my name & cultural heirlooms correctly, I have seen this been botched by others! Ryan & Ksenia Woodland highly recommend Fiona King as the very best celebrant in Sydney. Fiona's attention to each an every wedding detail is to be commended, right down to how to set up picture perfect photos of certificates, rings etc. THANK YOU Fiona, we love your personality and work!
Jack's Naming Ceremony: Fiona, we are grateful to you for making our Naming Day ceremony such a relaxed, personal and beautiful experience that we will treasure forever. Your service was fantastic, the ceremony and your style was refreshing. All the planning, preparation and organisation you put into our ceremony meant that we could fully relax and just enjoy the day with our family. Always a friendly, smiling face and committed to creating a ceremony true to us and our wishes. We couldn't have wished for a more perfect day. Many guests actually commented on how much they liked the celebrant.Everyone was captured by your amazing Harp performance.
You have a remarkable gift which we were lucky enough to be your audience.Kelly, Andrew & family
Javier & Simone – Park Handfasting Wedding: On Oct. 20, 2010 Fiona married my husband and I, in a wonderfully friendly, spiritual, and generally warm & relaxing wedding ceremony.The ceremony was so much fun, Fiona's attentiveness to keeping the event fun, and sensitive was truly enjoyed by all.I had never really put much thought into celebrants, and whether or not a wedding ceremony was meant to be anything but the standard ceremony you see "in the movies", but Fiona made our ceremony not only memorable for us, but, I still get friends and family coming up to me and commenting on how much they enjoyed our "Wedding Ceremony", which is not only unusual but very gratifying to hear.It's funny usually the Wedding reception is the part of the Wedding night you remember most, but people always remember our Ceremony as well, for that I am very "Thankful" to Fiona.
Robyn & David: Thank you for such a wonderful Naming Ceremony. It meant so much to us and we love the way you included Samuel, Nathan's brother in the Ceremony.
Peter & Punnipa – Mandalay House: Thanks for the awesome job you did for us! It was great to have someone to help with the process. Punnipa also appreciated that you were so patient and kind with her.
David & Noppawan – Quay Restaurant Circular Quay: Thank you Fiona, you are the best celebrant !
Looking For An Affordable Marriage Celebrant in Sydney?
Fiona Here, I'm A Celebrant With 10 Years Experience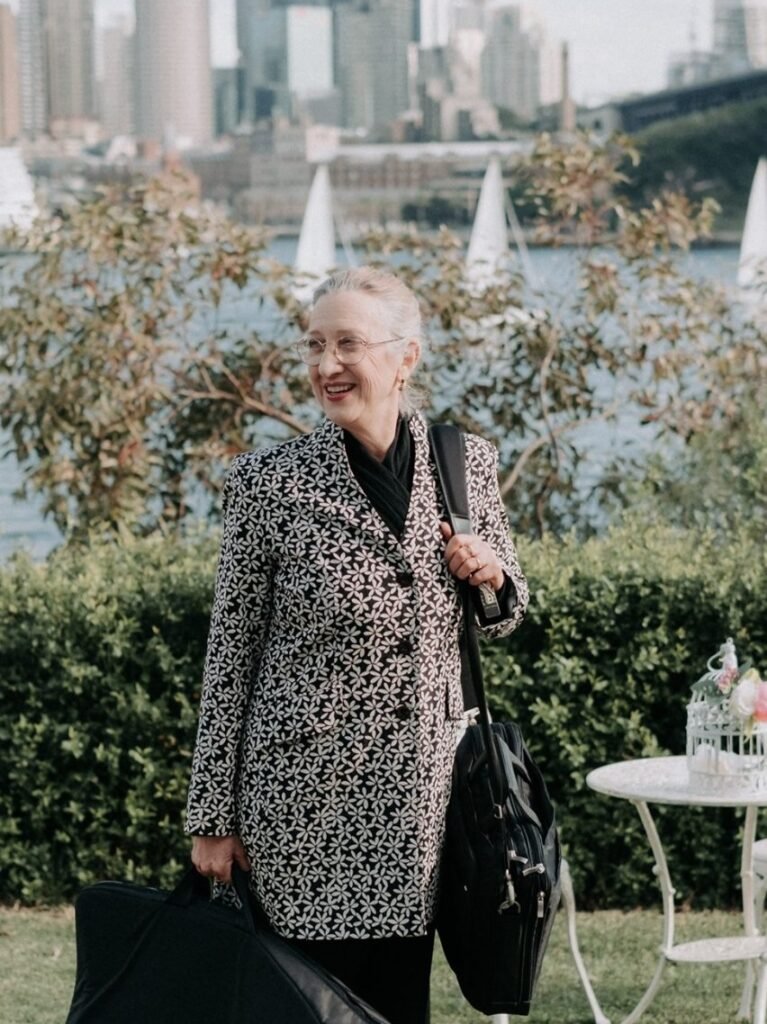 I would love to talk with you regarding your wedding large or small. Your welcome to contact me for a chat, email or set up a Zoom or Skype meeting.